CONTACT US
CHAT WITH US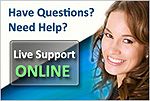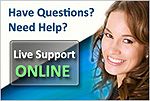 Live Chat Hours:
Mon-Fri: 6:00 AM to 7:00 PM (MST)
Sat-Sun: 6:00 AM to 5:00 PM (MST)


TELEPHONE

CALL TOLL-FREE FROM THE U.S. OR CANADA
1 (877) 834-1031
(Don't worry, we answer the phones in English!)
FROM ABROAD
+52 (624) 279-0021
CONNECT WITH US
Contact us through our friendly Social Media Platforms; you'll be amazed at our Fast Response Times!
E-MAIL US
We strive to answer all emails the same day.
You 'll be pleased with our Response Times!
Note: If you don't receive an answer at this number, our phones may be down - this happens regularly in Mexico. We may also just be on the phone with another customer. If you are unable to get through, you can also e-mail us your telephone number and we'll call you back. Monday through Thursday are the busiest days on the phones.